Before we get to the wedding guest post today, I want to take a moment to remember those affected and lost on 9.11.2001. No matter what anyone says, I will always take a moment to reflect and pray for the many men and women who lost their lives and their loved ones because of a heinous cowardly act by terrorists.
I believe in my country and I believe in a just God. < 3
Ok, now on to more beautiful wedding guest posts.
Today I have the lovely and hilarious Jaime. She is a beautiful mommy to two adorable children, wife to a Navy man and a fellow East coaster. We both live within driving distance but have yet to make a blate happen. I need to get on that after I get back.
Thanks so much for post Jaime!
****************************************
I'm so excited to be here while Pinky is off being a newlywed! I'm Jamie from
Handling With Grace (HandlingWithGrace.com)
. I have been married for (almost) six (very, very long) years.... Just kidding... Sort of. We were living in San Diego, him in the Navy and I was working my first grown up job after college. We had been dating for most of our lives (high-school sweet hearts, holler!). When he got back from his second deployment in April, we found out he would be stationed in Hawaii in September. This left a pretty short margin of time to get engaged, plan a wedding, get married, and get everything ready to move to Hawaii. After the most stressful yet exciting summer ever, we were married September 2, 2007 on Coronado Beach in San Diego.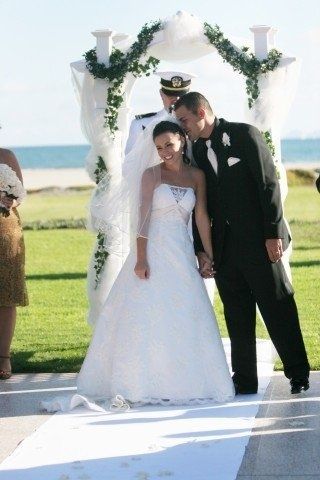 It was everything we wanted our wedding to be. It was filled with all of our family and friends and on the beach. We celebrated our wedding on that Saturday evening, relaxed at a fabulous hotel on Sunday and then met the movers bright and early Monday morning to pack up the rest of our things to go to Hawaii and then flew off the continent on Tuesday.

And just like that, we were off to live as a married couple! It was a couple very stressful months but the anxiety and hard work was all worth it, as Pinky now knows.
Cheers Pinky and congratulations!