I have never been shy about my love of sleep.
If you've been reading here for awhile, you know how much
I value my zzzzzsss
and that I'm often late to work because I'm trying
to catch a few extra minutes in bed.
[luckily my boss is awesome and anything under 30 minutes late is overlooked]
Because of my love of sleep,
my morning routine is as brief as possible,
with very little wasted effort and time.
Non-morning workout days
Alarm goes off at 6:30 snooze till 655-7am, Keurig, shower, lotion&brush teeth, make/grab bfast for car,
pack lunch, get dressed, start car, dry/style hair, grab everything
rush out the door. All in 30 minutes, boom!
Morning workout days
Alarm goes off at 5:15am, snooze till 5:30am, start car, Keurig, start bfast, brush teeth, put on work clothes, finish making bfast, grab lunch, gym bag, purse, drive to gym, workout til 7am, shower and get ready at the gym, leave for work at 730am.
Notice how I said NOTHING about makeup in either example!?!
Yup, that's cause makeup is done....don't kill me...in the car!
STOP YELLING AT ME!
I ONLY do my makeup at red lights, scouts honor.
I SAID STOP YELLING AT ME!
I've become a master at putting on my face in the car,
but sometimes I forget exactly what I have in my makeup bag
and then I'm fumbling around and lose time.
NO BUENO!
ENTER ELF products
and their AWESOME SALES!
I've gone from ALLLLLLLLLLLLL this...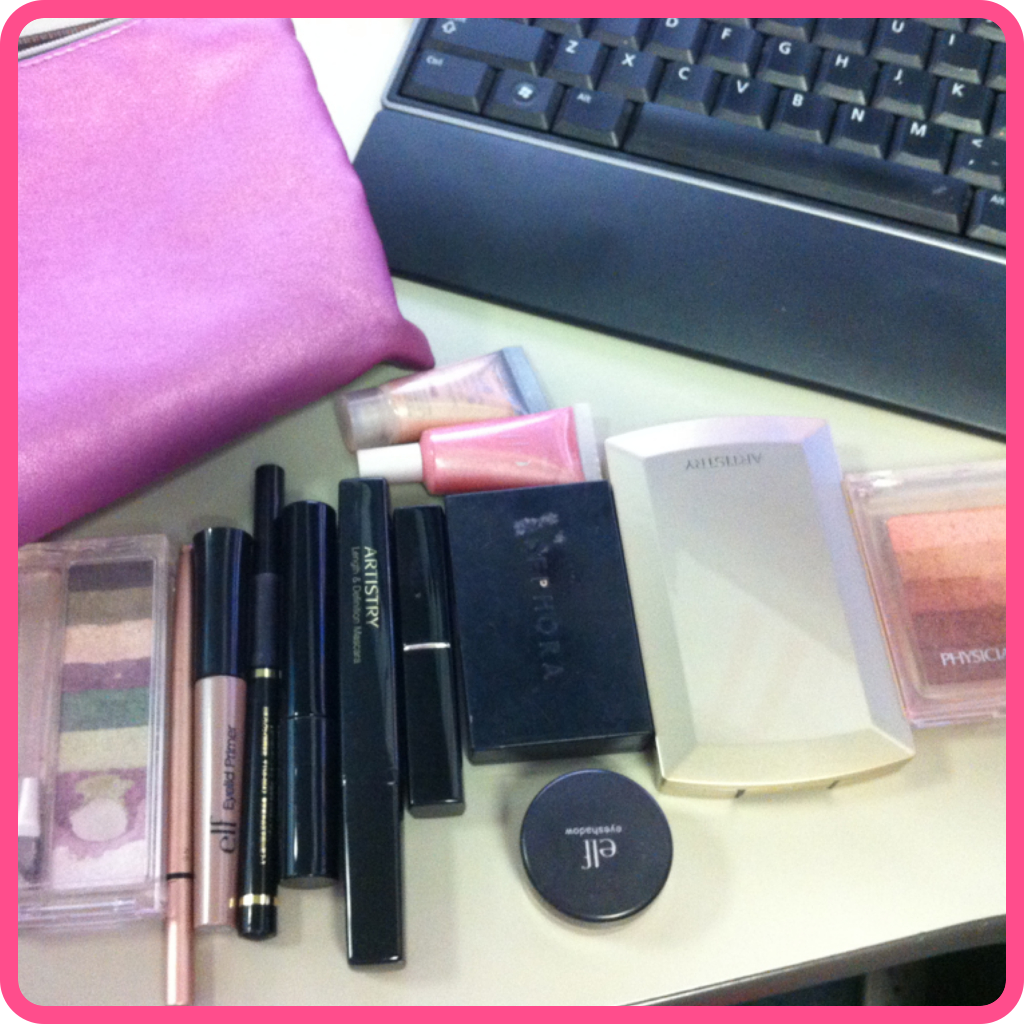 L-R: CVS brand Green eye palette, Artistry eyeliner, ELF primer, Artistry liquid liner, Artistry mascara x2,
Artistry eye cover up, Sephora shadow, blush, lip gloss pack,
ELF mineral shadow,
Artistry 3D powder, Sonia K bronzer, ELF blush whip [similar to benefit shimmer]
To just this....
Is that just a box?!?!?!
OH, did I say JUST....yeah, that's a lot!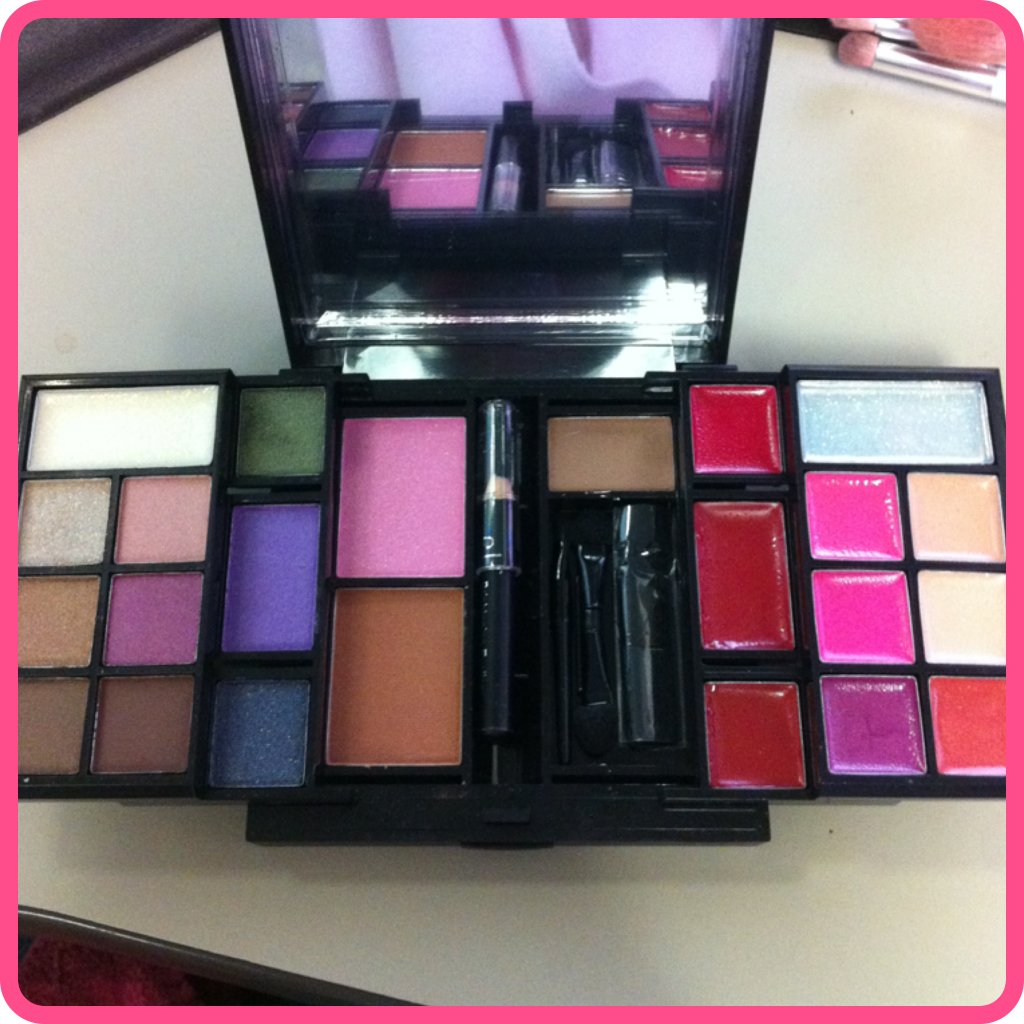 Perfect eye combination shadow for moi, blush and bronzer, eye liner,
brushes, eye brow powder, lip gloss
I love all of the color combinations in my new ELF pack,
so so pretty and versatile.
Having a 1 stop shop in my makeup bag is super awesome.
Much less fumbling around at lights.
These are my use everyday products, which won't change.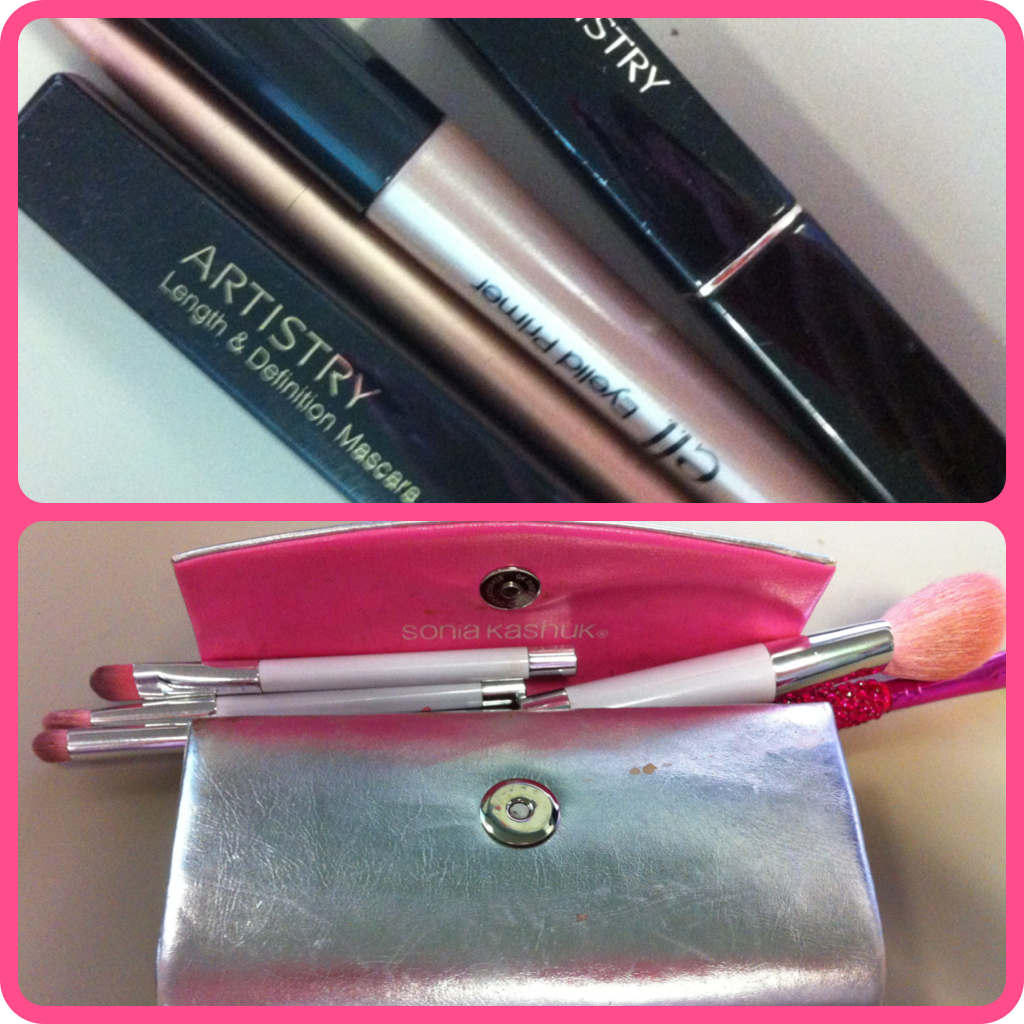 New amazing Artistry mascara, ELF eye liner, Artistry primer, Artistryeye cover up
Sonia K Travel makeup brushes
I'm sure I'll occasionally grab my 3D powder
and change up my makeup routine
[I'm a girl, it's what we do]
but I'm pretty sure this lil ELF baby
will be in rotation for a long time!
Any fun new makeup purchases on your end?
I'm waaaaaaaaaaaaaaaaaaaaaalkin', you should too!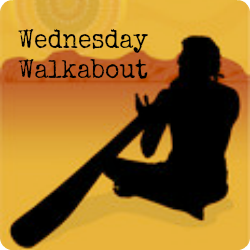 ********If anyone is interested in Artistry products, let me know. My mom sells them and they are amazing. Miss America uses them too, FYI ;)**********