Saturday was SISSY DAY WOOHOO!
Before their plane landed,
C and I had time to grab breakfast.
Oh wow was it delicious. I got the étouffée scramble.....
STOP THE WORLD AMAZING!
Even though their flight was delayed, the sissys were excited
to finally be in NOLA.
Since they were sharing a hotel room with me and C,
making him way out numbered
he stayed in the hotel room
while the three sissys toured part of the city
and the youngin's grabbed some food.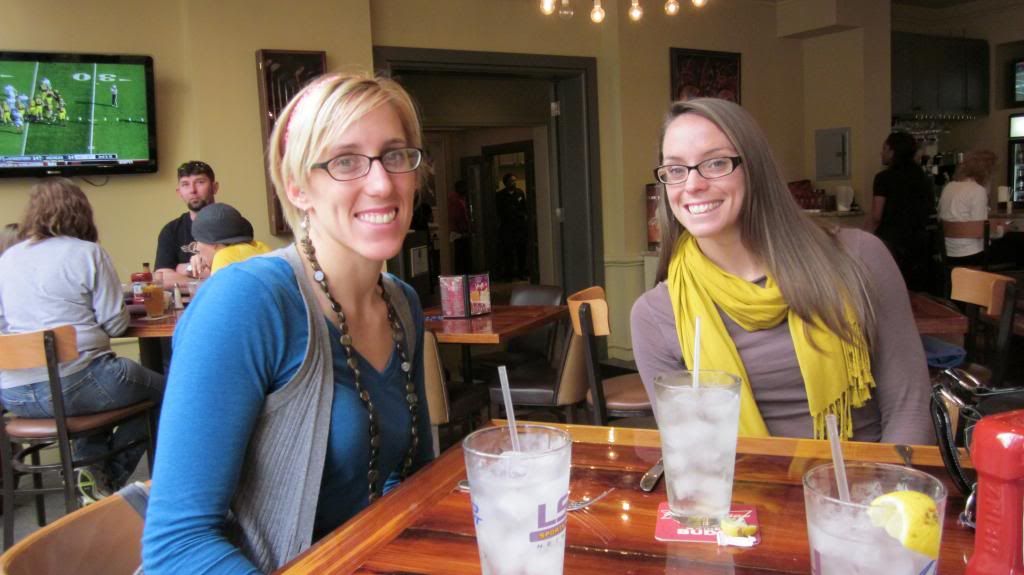 We all had a fun time exploring parts of the city
for a bit, but then we had to head back to the hotel,
because they had to change for practice
and I had to change for a podcast presentation.
As podcast hosts, we were in charge of
announcing the award winners for the season
and handing out fun swag to the kickballers at the bar.
It was a lot of fun, but I made a horrible outfit decision
and wore a flowy dress,
while we were announcing from a balcony.
Time to page the fail whale
and sad trombone!
womp wompppppp
I was waaaaaaaaay bummed I couldn't fully participate
[because I didn't want to flash those below eek]
but tried to make the best of it with the free swag
and working behind the scenes.
Around the time the meet up ended
C and the gals were heading back from practice.
Our team had a bbq at their house for dinner that night,
however, since we were in the city 20 minutes away
we all decided to eat dinner somewhere on Bourbon Street.
We weren't the smartest cookies in the crumble
and didn't think to make reservations
so it became a game of
who had an opening and the wait time.
After plenty of NOs
we came across a pretty swanky place called
There was a 20 to 40 minute wait, but as it was getting late
and we all enjoyed the ambiance in the restuarant,
we put our names in and went to the bar to enjoy a drink.
We might have been the youngest and most under dressed group in the bar,
but we made the best of it.
Even though we all had a game the next day,
we chose to indulge in a drink at the bar while waiting.
One of our teammates had come to dinner with us,
so it was a lot of fun getting to know him better
while talking about the tournament the next day.
I spy a sister framer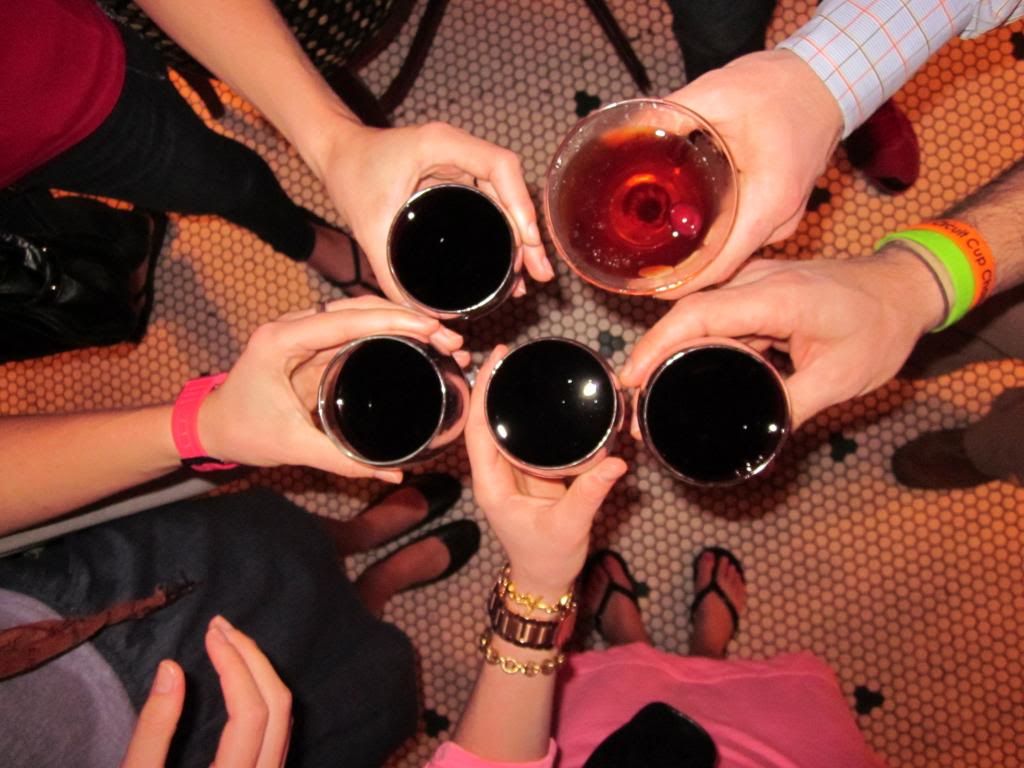 Drinks!
The wait took a little longer than expected
but once we were seated it was all worth it.
The food was amazing
[a tad pricy]
but amaze balls!
I wish I had taken a picture of everything,
but since we had a friend at dinner,
I didn't wanna be a weirdo.
I had duck and it was out of this world.
We also had alligator fritters, baked mushrooms,
halibut, pheasant and steak.
FOODGASMIC!
Everyone was pretty stuffed after their meals,
but we saw another table being served
banana's foster,
so, duh we had to have some too.
The presentation was fabulous
and it tasted divine!
So happy with her dessert!
We were stuffed and happy when we left,
so we decided to walk Bourbon street
to people watch.
Yeah, that lasted about 5.3 minutes because it was so crowded
and we started to get annoyed with
all the people bumping into us.
Before going back to the hotel,
we had to make a very special stop,
go procure some top secret beauty products.
You'll get to see the result in the
next recap!
Sunday = GAME DAY!!!!