HAPPY FIRST DAY OF SPRING FRIENDS!

WOOOOHOOO!!!!
I'm loving...
that today is the first day of spring. Winter cold be
gone
, hellllo warm/bright sunshiney days and helllo THAT MUCH CLOSER TO MY FAVORITE TIME OF YEAR.....
SUMMER
!
I'm loving...
how
well
my MOH/BM craft came out
,
and that the girls loved them! DIY post coming tomorrow!
I'm loving...
THAT I FINALLY HAVE
200
FOLLOWERS
!!! Thank you lovely lovely friends and followers, y'all really really really made my day! :)
I'm loving...
that today is my SECOND wedding dress appointment! YAY FUN!
I'm loving...
this
awesome
meal I found on Pinterest. Get your tastebuds ready, I'll be posting the recipie next week.
I'm loving...
the return of
morning
workouts. I rocked it out last week and have been
rocking
it this week. I am determined to make the Tough Mudder in April my....well you know ;)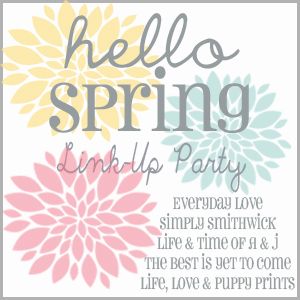 The Spring link up topic for today is
Spring Cleaning WOOHOO!
Yeah, sikabooboo!
Who REALLY enjoys spring cleaning?
I do enjoy the after effects of a clean home,
but man, spring cleaning really takes
it out of me sometimes.
I don't really have any of my own tips or tricks to share.
I subscribe to the
one room
at a time during the week theory,
otherwise I burn out and create an even bigger mess.
Thank goodness for Pinterest, or this post would be
mega boring and uninformative! :)
Some Quick Tips and Tricks
Great Spring Cleaning Check List
Fun Spring Cleaning Play list
*********************