1]

Celebrate the

DIIIIRTY THIRTY

in STYLE!

-

DONE AND DONE! My actual birthday was amazing and my party was super fabulous too!
2] Lock in Photographer and Florist -
I met with both and loved both equally. I will be reaching out to sign contracts with both vendors this week, fingers crossed.
3]

Yoga at least once a week

-

Ha, guess how many times my yoga mat was used this month. I should PROBABLY take this off my list for next month.

4]

OWN the Tough-Mudder on 4/21

- We ROCKED that ish out y'all!

I had a blast participating in the Tough Mudder and might do another one in June. Guess you could say I've caught the bug :)!
4]

Print, cut

and mail out Save the Dates

-

They are printed, cut and the envelopes are stuffed, but they have NOT been sent out yet. I'm hoping to have them post marked by next week, once I get all guests' addresses.
5]

Switch over fall/winter for spring/summer wardrobe

-

This barely got off the ground, BUT it wasn't

only

because of laziness. The weather in APRIL was straight bonkers and sweaters were still needed. I decided to wait until May to move everything around.

6] Lose X pounds - Try put on a few pounds....UGH. Birthday celebrating all month and not working out after the Tough Mudder did NOT help this goal at all.
Ummmm I'm going to be generous and say April was 50/50 for me.
And leave it to that. :)
ON TO A FRESH NEW MONTH!
1] Order Bridesmaid dresses
-A MUST! I have all the girls' measurements and pending one question being answered they should be ordered NEXT WEEK!
2] Get Save the Dates in the Mail/compile addresses -
I was SOOOOO close to having this completed last month, drat. Now just need all the addresses and I'll be G2G :)!
3] Switch over fall/winter for spring/summer wardrobe -
YAY, I love my spring/summer clothes! Bring on the dresses, skirts and fun tops!
4] REGISTER!!!! -
GAH
,
I've had a few people ask me WHY this hasn't been done, which makes me think I'm WAAAAAAAAAAAAY behind. Am I the only one who thinks that while this will be FUN it will be a daunting task?!!? YAY for fun gifts but uuuuuuuuuuugh for picking out things without having a HOUSE to furnish. Wish ME LUCK!
5] Contact DJ/Videographer -
Think I'm a bit late on this, but hopefully it will all work out. Both are friends of friends so I'm hoping it will be easy peasy.
6] Sign Contracts/Pay Deposits for Florist/Photographer -
I'm sold on these two, but need to make everything official this month.
7] Begin Invitation Process -
I've started this a bit, with the help of a LOVELY blog friend, but I need to decide what I want and how formal/informal I want them to look.
8] Workout in the mornings 3x a week -
Ugh, I've been horrible about this and MISS the endorphins
[don't wanna kill my soon to be husband haha]
and the satisfaction of working out. I sleep better when I workout in the mornings

and 3x a week is manageable.
9] Do At Least THREE NON-Wedding Related and FUN Things with C
- I don't wanna stress out and just be WEDDING girl. C and I have a ton to do this month wedding wise, but we also need to just have fun too. I have a few ideas up my sleeve, hopefully I can get my act together.
10] Lose X pounds -
Bringing this over from last month. And I'm joining with
Kristine
for her linkup: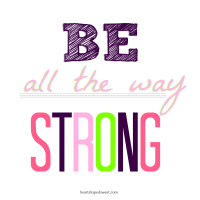 LOTS of goals this month, but I KNOW I can make it happen!